I fucking love college. Days like today clearly exemplify my love for it because the laid-back attitude for the day (at least on my part) made up for the fact that nothing of academic importance really happened- thus making the last day before our very belated Spring Break really useless.
Saw a bunch of my friends today, bitched about the ridiculous hypocrisy going on with our so-called Earth Week celebrations. First thing that made me smile was walking to class with my Wiccan friend and just outside the Art/Music quad being presented with a tiny green book of excerpts from the New Testament by one of those activist types- I hesitate to call him an activist because he looked like a genuinely nice older gentleman. He gave one to both of us and I sort of chuckled over it, glad it wasn't another pamphlet on the cruelty of super farms with pictures of deformed chickens plastered all over it because frankly, if I see that holier-than-though bitch again someone is going to have to book me aggravated assault or murder because I will stab her with a knitting needle if she lectures me on going vegan again.
Next kind of good/fun thing for the day came after I decided to sit in the quad and wait for my friend to get out of class. Typically I wait in the cafeteria alone, trying in vain to get the school internet to cooperate. My decision turned out fairly well. Not twenty minutes after I sat down, a moderately cute-ish looking guy with a cello sets up just across the quad to practice, telling a staff member that it was just too hot in the classroom to work inside. He was good, and it absolutely made my morning.
Third awesome element of my day came in two parts. On my way to World Lit, my friends and I run into another friend whom I have not seen in a couple of weeks. His first words to us are to inform us that they're giving out free condoms at the Earth Day/Week thing. We are incredulous and question the connection between the event's already questionable motives (they were using Styrofoam cups and there were numerous little signs picketed on the grass around the main quad in front of the library- seriously they want to promote going green by printing quotes on cardstock stapling them to wooden stakes, and shoving them in the grass- thus killing the small rectangle of grass) and then we bemoaned the fact that we had to go to class.
Getting to class we discovered not only were they passing out free condoms, they were passing out free condoms in RAINBOW COLORS. I made it known that I would kill for yellow condoms and then the guy who sits in the corner of the room (the one I think is a bit of a stoner) decides he's not sticking around to wait for our professor to show up. The professor who shall-not-be-named came in five minutes late to his own class, informed us that our discussion could be heard by the class in the next room and that the professor in there is kind of his boss. I kind of wanted to say that maybe if he didn't want us to talk loudly about the nonsense going on outside then he should have gotten there on time. In any case the stoner guy came back about five minutes later just to ask "Who wanted the yellow ones?"
My arm went up so fast I think I pulled something. He walked over, gave them to me, told the professor he was leaving again, and left.
Dude brought me condoms.
It was epic.
Then as I was leaving campus two guys (I think they were drunk) – one pushing the other in a shopping cart come down the sidewalk, and declare their love for me and my shades as they strolled past. I laughed all the way to the car.
Pics for proof and the sheer absurdity of it all.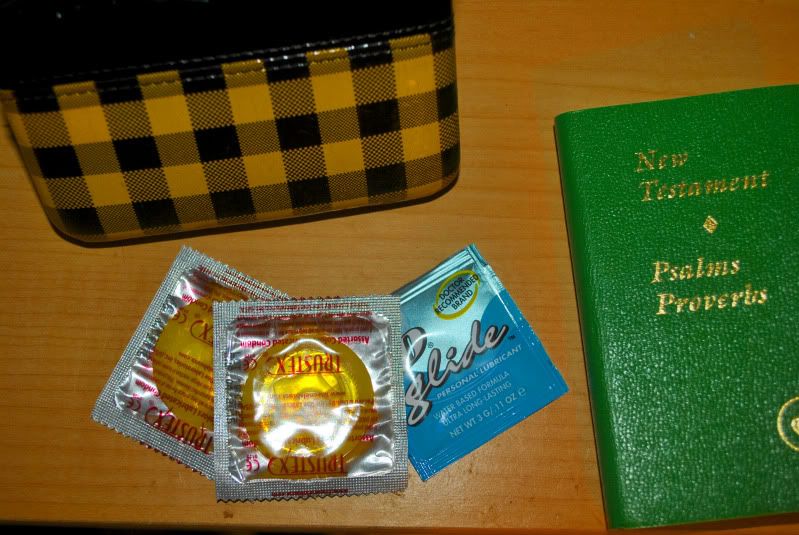 Current Music: Raise Your Glass (Glee Cast/Darren Criss Version)